Compassionate Mind Training for Parents with Sarah Wolfe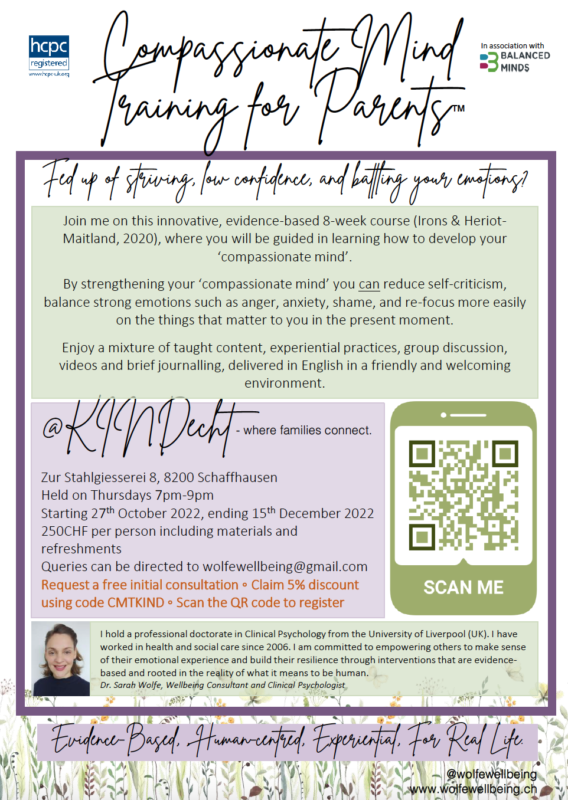 Welcome to our `Compassionate Mind Training Workshop for parents`- a local 8-session course for parents struggling with tricky feelings and self-criticism.

Join us on this innovative, evidence-based 8-week course (Irons & Heriot-Maitland, 2020), where you will be guided in learning how to develop your 'compassionate mind'.

By strengthening your 'compassionate mind' you can reduce self-criticism, balance strong emotions such as anger, anxiety, shame, and re-focus more easily on the things that matter to you in the present moment.

Enjoy a mixture of taught content, experiential practices, group discussion, videos and brief journalling, delivered in English in a friendly and welcoming environment.

This is an evidence-based approach to wellbeing that works with the unique capacities of the human mind for both care-giving and care-receiving.
Compassion is a portal to a sense of safety and groundedness and an important component of resilience.

For one evening per week, take some time out to strengthen your compassionate mind so that on the other days of the week you can model self-compassion for your children.
Kontakt
Daniela Magni Ramos
KINDecht - where families connect
Zur Stahlgiesserei 8
8200 Schaffhausen

info@kindecht.ch
+41 (0) 76 804 88 77
Website
www.kindecht.ch
Thema
Beratung & Unterstützung
Begegnung
Elternbildung
Altersgruppe
Eltern und Betreuungspersonen
Region
Gemeinde